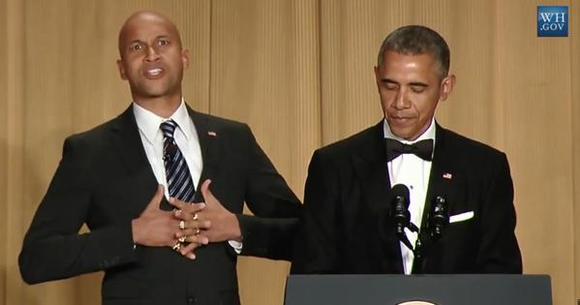 Towards the end of his annual speech to the White House Correspondents' Association Dinner in the nation's capital Saturday night, President Obama got "angry." Aided by Luther, his "anger translator" (a character played by Comedy Central's Keegan-Michael Key, from the TV show Key and Peele), President Obama launched into an epic tirade against climate deniers on Capitol Hill
Good morning !
I love how humor has the chance to break through when actual anger can not. Last night President Obama and Keegan-Michael Key played the anger / humor role perfectly. If you haven't seen it yet, I've included a link below in the videos section. Make sure you stay until the end to see what the President is really angry about !
Think about how hard it is to get your partner, spouse, or friend to actually listen to you when you are angry. Do they listen or do they shut down?
Humor, done right, can be an amazing tool to get your point across and break the tension.
Do you have any good examples of organizations or brands using humor to get an otherwise depressing or difficult message to be heard? Just reply to this email and let me know!
Best,
Shaun Dakin – Dakin Associates
PS: Just reply to this email to get in touch with me. I'd love to hear from you!
PPS: Please share this with your friends if you think it would be helpful ! Sign up link here
Interesting Stuff I'm Reading That You Should As Well !
Springwise
One of my favorite sites and newsletters on Nnew business ideas, trends and innovation.
Resources and Tools To Make Your Job Easier
RefreshBox
RefreshBox enables people to subscribe and create weekly 5-link-collection newsletters of their weekly professional best read
Thanks so much ! I'd love to hear from you. Just reply to this email and say hi ! If you find this email valuable, please share with a friend. If you don't, please unsubscribe at the link below.
Shaun
PS: If you want to subscribe to this email please go here > http://eepurl.com/QhMGP
Collect and curate content easily for brilliant newsletters. Try Goodbits for free!