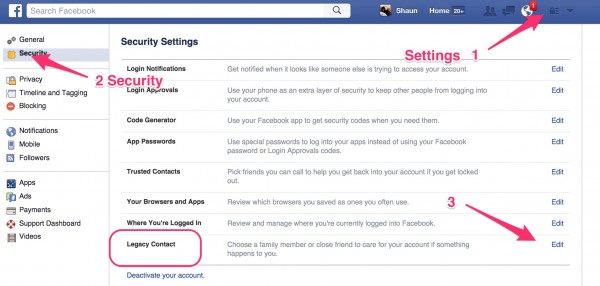 Today facebook announced an important new feature that allows you to designate anyone you are friends with as the person responsible for your account if you die.
Here is my quick screenshot directions on how to do this very quickly.
Go to "Settings"
Click on "Security"
Click on "Legacy Contact"
Designate someone OR simply say that you want no one to have access to your account when you are gone.
Here is what facebook said in their announcement:
Today we're introducing a new feature that lets people choose a legacy contact—a family member or friend who can manage their account when they pass away. Once someone lets us know that a person has passed away, we will memorialize the account and the legacy contact will be able to:

Write a post to display at the top of the memorialized Timeline (for example, to announce a memorial service or share a special message)
Respond to new friend requests from family members and friends who were not yet connected on Facebook
Update the profile picture and cover photo

If someone chooses, they may give their legacy contact permission to download an archive of the photos, posts and profile information they shared on Facebook. Other settings will remain the same as before the account was memorialized. The legacy contact will not be able to log in as the person who passed away or see that person's private messages.

Alternatively, people can let us know if they'd prefer to have their Facebook account permanently deleted after death.