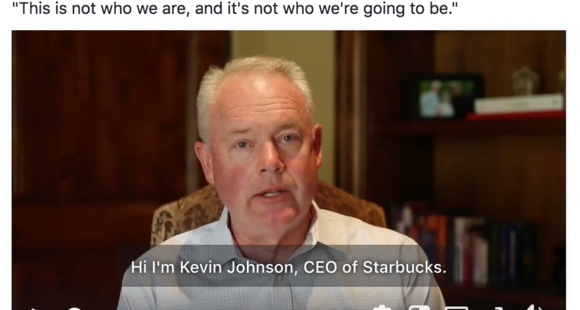 Hi,
Social media was responsible for one single incident at one of 8,000 Starbucks stores to make a single interaction the most essential story in America (other than Trump).
As I wrote last week, a single twitter video by one Starbucks customer using their smartphone turned 8,000 Starbucks stores upside down.
Starbucks was extremely successful at their initial response (though I said it could have been faster).   
Here is what I said they could have done better:
"What Starbucks could have done better:  They should have responded using a video of the CEO on twitter and then follow that up with posting on the blog and other social platforms that Starbucks uses.   A video would have made the company more human and personal than a formal PR type statement on their twitter feed and blog (bonus:  use facebook live).
Also, betime-bound and specific on when you will be doing the three things you say you will be doing.  The CEO's response is precise, without really saying when anything will happen, allowing many people roll their eyes as they don't believe Starbucks will follow through on these actions."
I'm happy to say that someone at Starbucks HQ must subscribe to my newsletter because they did exactly what I suggested!  🙂 Well, not exactly, they used facebook instead of twitter for the CEO's video response.
Also, if you don't already know, they have announced the closing of all 8,000 stores at the end of May.  Here is what they posted to Facebook.
"On May 29th, we will close our company-owned stores in the US to conduct racial-bias training in order to address implicit bias, promote conscious inclusion, and prevent discrimination so everyone feels safe and welcome at Starbucks."
What other suggestions do you have?  Let me know!

Best,

Shaun Dakin – Dakin Associates
PS:  If you like this email, please forward it to your friends and colleagues!
Churches make a drastic pledge in the name of social justice: To stop calling the police
Now, the church has joined a small handful of like-minded congregations with a radical goal: to stop calling the police. Not for mental health crises, not for graffiti on their buildings, not even for acts of violence. These churches believe the American police system, criticized for its impact especially on people of color, is such a problem that they should wash their hands of it entirely. 
Like this newsletter?  Feel free to forward it to friends and family!