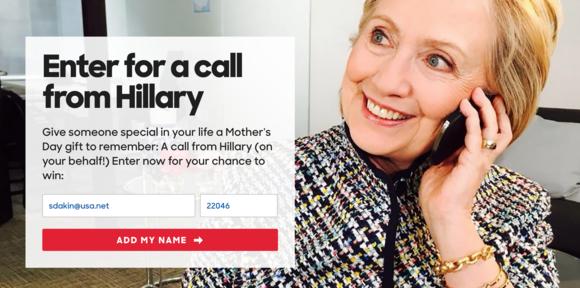 The Hillary For America Mother's Day Campaign
Hi:
Don't forget May 10th is Mother's Day (I love you Mom! – Kae Dakin, my Mother, is one of the most incredible women I know. Mom, Thank you so much for everything you have done for me!) 🙂
Is your organization doing anything special for Mother's Day?
I personally love this campaign from Hillary for America. It perfectly sets her apart from her rivals (both Republican and Democrat). Who would want a Mother's Day call from Ted Cruz? 🙂
Have you seen any really good examples of Mother's Day Campaigns?
Best,
Shaun Dakin – Dakin Associates
PS: Just reply to this email to get in touch with me. I'd love to hear from you!
PPS: Please share this with your friends if you think it would be helpful ! Sign up link [here](http://eepurl.com/QhMGP
Resources and Tools To Make Your Job Easier
How to Spend a Social Media Budget
Imagine you have $100 to spend on social media marketing. What's the best way to spend your budget? We've shared three perspectives here.
Thanks so much ! I'd love to hear from you. Just reply to this email and say hi ! If you find this email valuable, please share with a friend. If you don't, please unsubscribe at the link below.
Shaun
PS: If you want to subscribe to this email please go here > http://eepurl.com/QhMGP
Collect and curate content easily for brilliant newsletters. Try Goodbits for free!