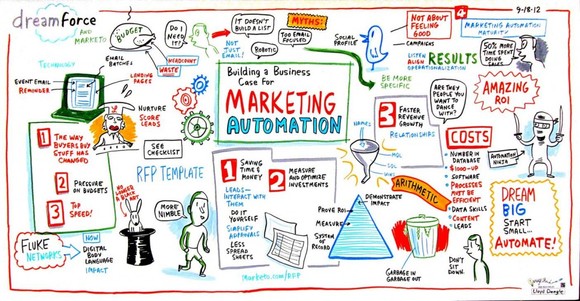 Marketing automation image from Responsive Inbound Marketing
Hi:
For those of you in the USA, Happy Thanksgiving ! Safe travels wherever you may travel. If you are interested in starting a new Thanksgiving tradition I love this idea from Seth Godin.
I often get this question from clients and colleagues: What is the one tool you cannot live without?
PART 4: Marketing and social media automation tools
This week I'm writing about "Marketing automation" tools. These are tools that help you automate marketing and social media so that you can focus on other activities without worrying about responding to every single tweet or reading every single post from your favorite influencer.
What if you wanted to make sure that you RT (retweeted) every single post from one of the influential people in your business or nonprofit category? (RoundTeam)

What if you could respond and welcome every new person that follows you on twitter with a "personalized" message that is not flagged for spam? (Socialoomph)

What if every time your blog published a new post you knew that it would be shared across ALL your social channels immediately? (IFTTT)
Next week? Learn Why no one cares about your facebook page. Think anyone (other than your organization) cares about what your facebook page looks like? Think again.
Tools
RoundTeam: I use it to make sure that I'm RT tweets from several of my personal account from lists of influential people and organization accounts that I "should" be doing, but don't have time. For example, I have a list of top Gun Violence Prevention people and organizations and I RT those accounts regularly with RoundTeam automatically.
Socialoomph: I use it to send FUNNY and NOT spammy direct messages to welcome my new followers. I send a question or a statement that starts a conversation. I then actually respond (in person) to those that respond back !
DrumUp: I use it to find content to share. Great curation tool.
IFTTT: For people comfortable with "coding" — not really, but it is slightly more difficult — this is an amazing tool for organizations and individuals to link pretty much ANY TWO digital platforms together. More below from Buffer.
What I have for you:
Deep thinking about Syria and How you can change the world.
Video: Two videos ! 1) The little child that warmed our hearts after the Paris attacks 2) My favorite Holiday video with Bing Crosby and David Bowie !
Resources: All the marketing automation tools and resources you need!
Hey, are you and I connected on Linkedin? Click on the icon below and send me an invitation!
Best,
Shaun Dakin – Dakin Associates
PS: Just reply to this email to get in touch with me. I'd love to hear from you!
PPS: Please share this with your friends if you think it would be helpful ! Sign up link here
Discover new Recipes – IFTTT
Recipes are simple connections between the products and apps you use every day. Discover Recipes published by the community and put the internet to work for you.
Tips For Gmail | POPSUGAR Tech
Gmail's best features are tucked away in its nooks and crannies, meaning there are endless tricks you might not know about.
Thanks so much ! I'd love to hear from you. Just reply to this email and say hi ! If you find this email valuable, please share with a friend. If you don't, please unsubscribe at the link below.
Shaun
PS: If you want to subscribe to this email please go here > http://eepurl.com/QhMGP