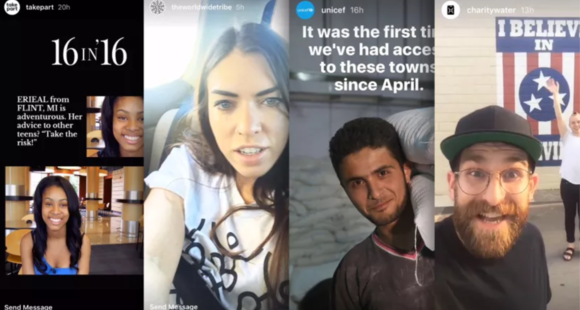 Screenshot:   Fast Company article.

Hi,
Last week I mentioned that I now understand the "stories" concept!  Not because I figured out how to use them in Snapchat or Instagram, but because facebook introduced them to both fb and fb messenger in the past month.
I now understand "stories," and I love them.
As a result, I'm on a quest to learn how both brands and nonprofits are using them successfully.   I've included some of the most useful articles I've found on this subject and hope they provide the spark that lights the creativity in your organization!   
Let me know!
Articles I'm sharing with you this week include:
FastCompany on how Nonprofits are using Instagram stories
10 Brands using Instagram
14 of the best Snapchats to follow
Chart: Instagram Stories Blows Past Snapchat | Statista
Videos:  
People's Climate March (I attended in DC)
Resources:
A Face-to-Face Request Is 34 Times More Successful than an Email
Increase Your Instagram Reach: 10 Simple Tactics You Can Try Today
Instagram Algorithm: The 7 Key Factors that Influence Your Organic Reach
Thank you,
Shaun Dakin – Dakin Associates
Like this newsletter?  Feel free to forward it to friends and family!